Discussion Starter
·
#1
·
Xtreme Gravity's Laws of Physics 2014!
www.lawsofphysics.org
Just jumping the gun as we have a lot of stuff accomplished for next year, some big stuff we're adding, and had such a successful year this past show.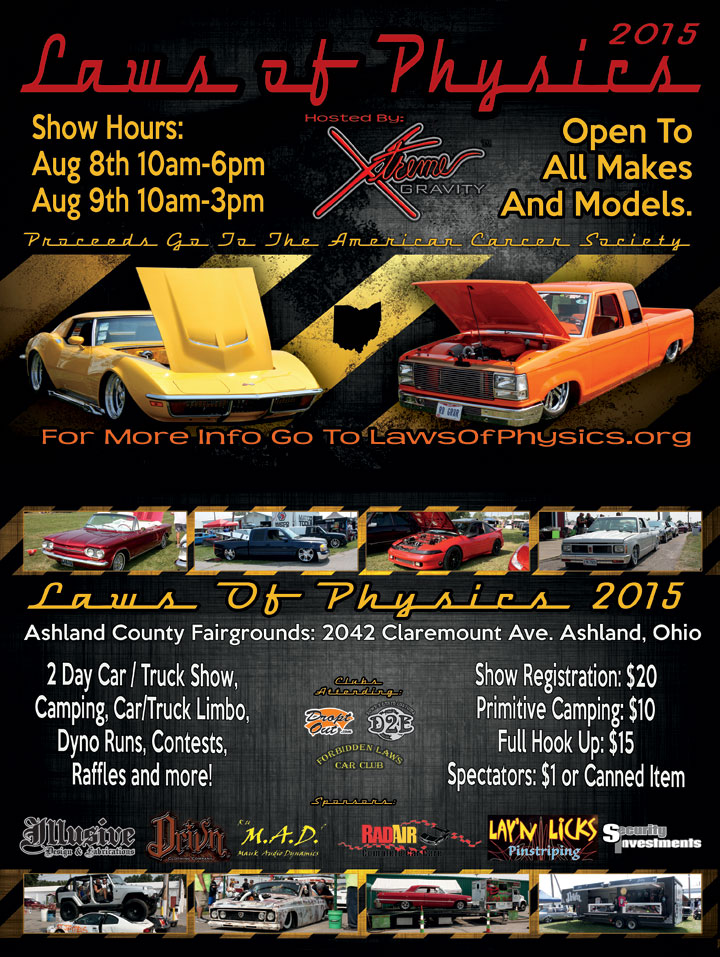 Laws of Physics 2014
Aug. 9th - 10th.
Ashland County Fairgrounds
Proceeds go to American Cancer Society for Breast Cancer Awareness!
Camping on site! Stay and party and mingle! Friday night camping available for select people, please request if interested.
Clubs / Organizations with 6 or more people preregistrating get a free sponsor event banner specifically for them!
Tons of awards / catergories.
Lowest Car / Truck
Top 50 for catergories included: Minitruck, Lifted Truck/4x4, DSM, Imports, Hot Rods, Motorcycles and more.
Best Paint Car / Truck By Ohio Paint Mods
Kids Choice
Best Club
Best Interior by LH Interiors
and more.
Tons of stuff for everyone.
Car / Truck Limbo
Car Crush for lifted trucks / Jeeps
2wd/AWD Dyno provided by Dyno On The Go
DB Drag / SPL Contest by American Bass
Sledge Hammer Car
Hug Chug Contest (Award for Adults and Kids)
Food Eating Contest (Award given for Adults)
Vendors and Food on site.
Illusive Design and Fabrications
Minitruck Scene
Criminal CustomzStella's Place Food
Sloppy Doggz
Tons of Raffle Items and 50/50 Raffle.