Discussion Starter
•
#1
•
I was given the opportunity to review the Tail Light Tint from Automat Central. I've always wanted to tint my tail lights but I never really wanted to use a spray can to do so because that requires usually to take off the tail lights. So this was an easy option with a film that could be easily taken off if needed, much easier than it would be if you had used a spray on tint.
Duration - 1 1/2 hrs.
Tools - Spray bottle, Hairdryer, Exact-o Knife.
Ease of installation - Medium.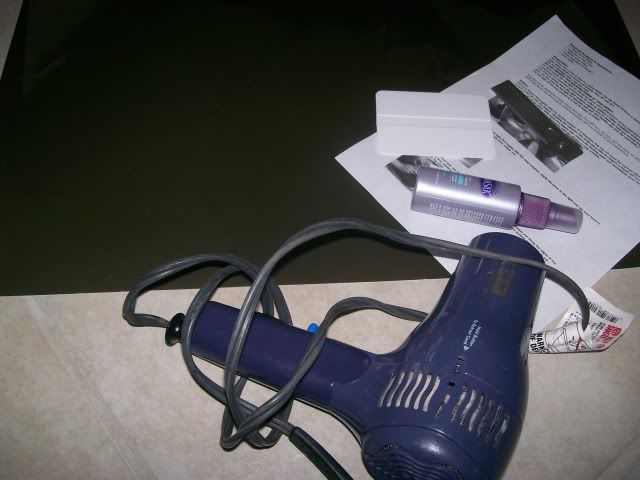 Above is all the things that you will need. What comes in the box are the tint, the squeegee, and instructions.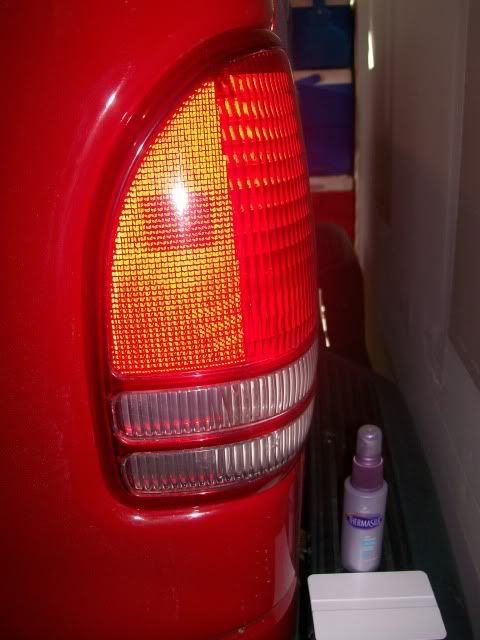 This is a shot of the tail lights before the tint. You have to clean the tail lights and dry them off before you start.
This shot is during. I used a larger piece than the the top portion of the tail light. ( the actual brake light portion ). I didn't really want to do the the outside of the lights, the portion that people usually paint. There is plenty of tint material to do two cars. I was surprised.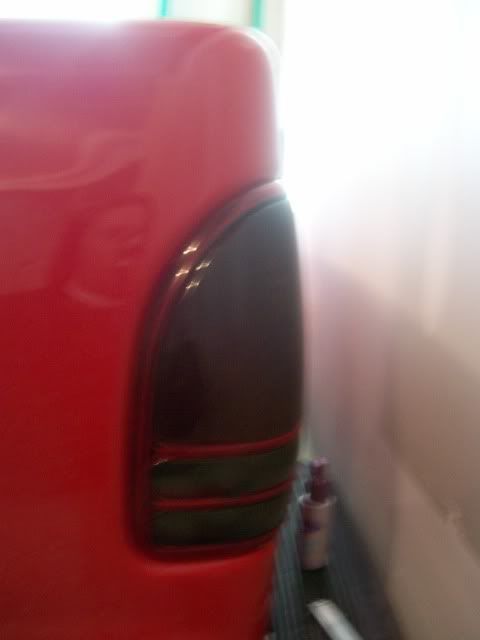 I finished and cleaned it all up. I did the top portion and the reverse light portion separately. I think it came out real well. This was the drivers side, nothing went wrong with this side at all.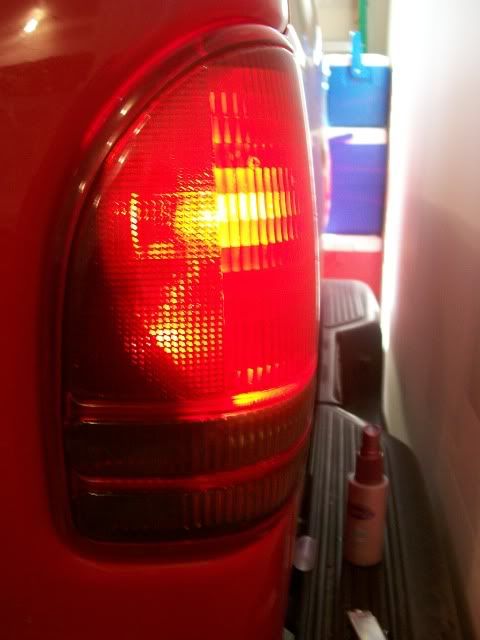 Picture of the tail light with the brake lights on. Personally, there is not THAT much loss of light. Yes, it is darker but it's not that bad.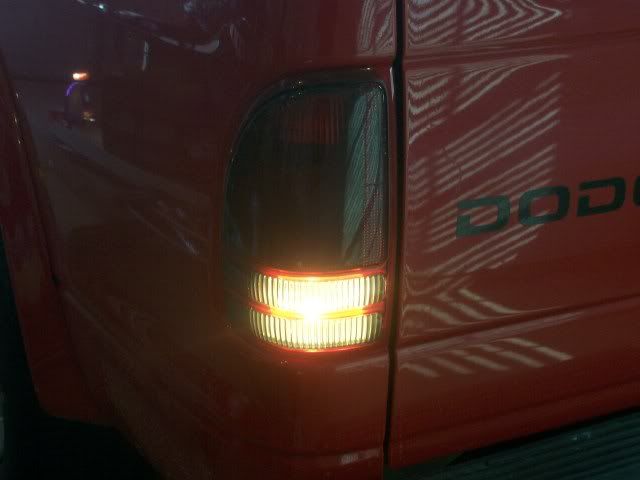 A picture of the tail lights when in Reverse. I thought that there was more light loss but personally, it still works fine, and looks great.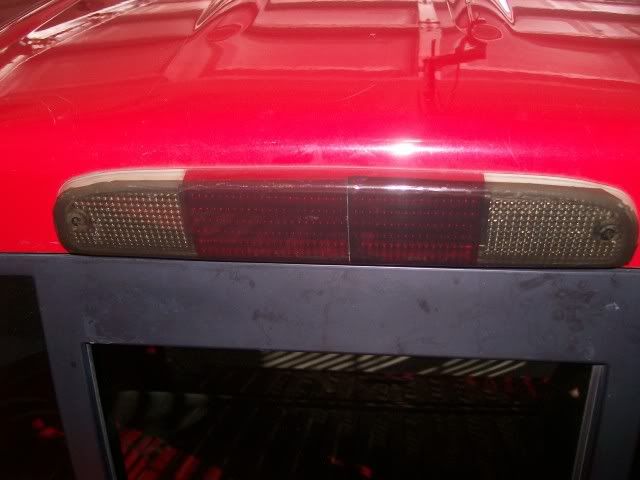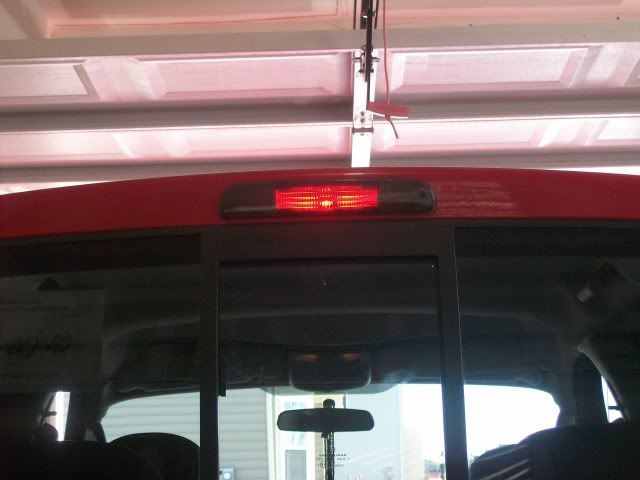 There is so much extra, I even decided to do the third brake light. I used the extra that I didn't use on the tail lamps. That's the reason why there is two pieces in one. The picture exaggerates the line, but when looking at it. You can hardly see it. Also above is a picture of the third brake light on.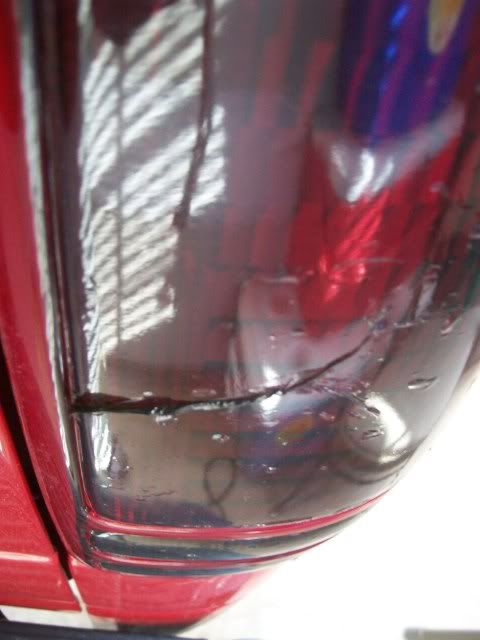 I did mess up because I didn't heat it up as much and didn't start from the middle like the instructions says on the passenger side tail light. I tried to fix it but I ended up getting a mess. Taking the tail light tint was easy as just heating it up and pulling it from a corner. As I said there is extra tint so fixing this problem was easy.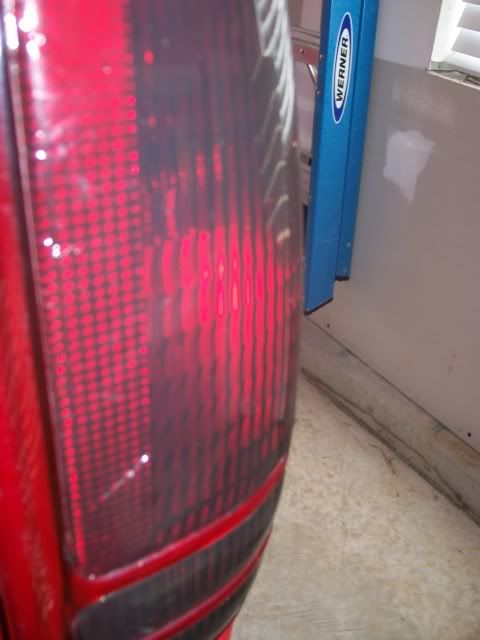 This the passenger side fixed. It looks pretty good, just waiting for the little air pockets to release so it will look even better. It says that the heat of outside will release them, but the only problem is I did this in the winter so using the blow dryer helped a lot with getting rid of some.
----------------------------------------------------------------------
Overall, this was a simple install. I think it's better to do with two people because trying to hold a blow dryer while trying to apply the tint as well as squeegee-ing is pretty hard. But this was a rather simple install and I think it looks great. Pretty simple, if I could do it then I think just anyone could do it. As I mentioned there is a lot more left, you could even do another vehicle if you don't mess up lol. But I thank Automat Central for giving me this opportunity.