Discussion Starter
·
#1
·
Easy and quick, helps if your engine is overcooling, or if the viscous coupler goes bad.
Tools needed:
-10mm socket and ratchet
-Adjustable wrench able to go up to 1-1/4"
-Breaker bar for adjustable wrench (pipe)
-GM clutch fan tool, or make one yourself
You can dink around trying to tighten the tensioner, or do it the easy way. There are 4 unthreaded holes in the water pump pulley. You can use a $10 princess auto/harbor freight GM clutch fan removal tool, or make one yourself. The holes are 2" apart, and a 1/2" dip between for the clutch fan bolt.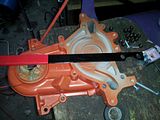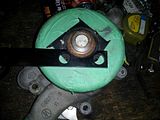 Put two bolts/nail/corn chips through the holes, slide on the tool.
Put the adjustable on, put on your breaker bar, and pull the two tools together.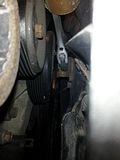 Once it's loose, undo the 4 bolts holding the fan shroud to the radiator, and lift the fan and shroud up simultaneously. Run it without the shroud and clutch fan, or go from here to install an electric. (next writeup)