NOTE:
The rear seatbelts will slip around the panel, but the front ones will not. If you are only replacing/removing speakers, you may choose to skip this step if you like.
STEP #10
In order to free the panel from the front seat belt, simply remove the bolt holding the free end of the belt (not the reel), with the appropriate Torx bit or 1/4" allen wrench. Then run the belt back through the panel.
STEP #11
This next step is
optional
to all. Depending on what your purpose is, you may or may not want to put the seat belts back up, without the panels on, for the time being. The lower belt bolts on with the label facing away from you (label against the body). If you are removing/replacing speakers, simply unscrew the three screws shown with a phillips screwdriver and disconnect the speaker.
Repeat steps #7 - #11 for passenger side.
For those doing speakers, you are done. To reassemble, follow the steps backwards, play a good song, and enjoy!
Continue doing steps #1 - #11 and here is what you have.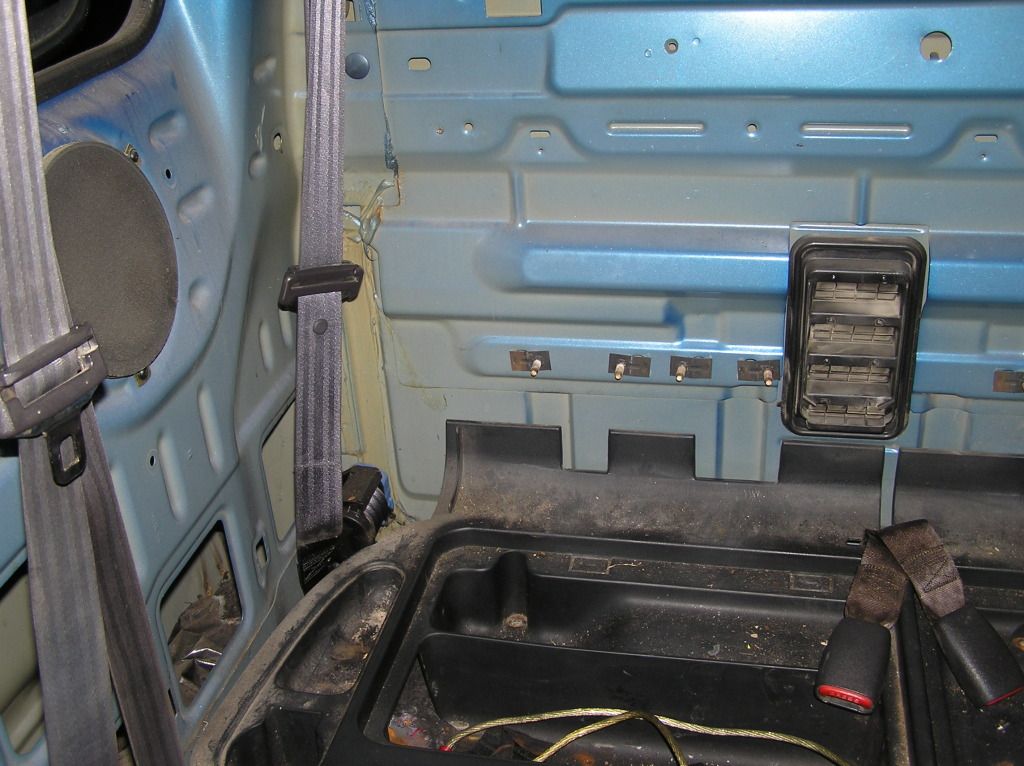 STEP #12
If you unbolted your bottom panel earlier, you can simply remove it now. However... I had trouble with two bolts, due to them being rusted in. After trying everything to extract them, I decided to use my dremel and cut the panel around the bolts, being sure to stay 1" above the floorboard, so as not to cut into it.
If you wish, you may unbolt the rest of the seatbelts that are restrained to the floor.
You have now finished removing all of the rear interior.
To reassemble, simply follow the steps backwards.
I do hope that this will help some people. I know my first time trying to remove interior was all but delightful, and breaking panels, tabs, push-in pins can add up in $$$. I will later do a "how to" on removing all of the front panels, door panels, and disassembling the dash to access different parts.
If you did this because the floor behind your driver seat continues to stay wet during inclement weather, but you can not find a leak in any of the windows or doors try this... Check to see if you can fit a piece of cardstock paper between the floor and any of the caulking used on some of the seams. Here is what I found when I could.