Discussion Starter
•
#1
•
So I had toxic vapor that wreaked of exhaust and coolant coming from my vents. No fluid on the floor.............then one day I had the fluid. My core had a leak. Here is how I replaced it without COMPLETELY removing the whole dash.
Before you start, move your driver seat all the way back and take your battery out. Yes...........out. Easier to get to heater hoses with a battery out of the way.
First remove your bezel, take out your radio, remove your heater controls and take off the covers under your radio and under your steering wheel. Pull out your glove box as well.
Next crawl under your dash and unhook your hood release (just unscrew the release), remove that support brace the hood release was attached to (you need to unplug your airbag sensor and detach s couple things), E-brake (just flip the tab and unhook the bar) and unhook your shifter linkage cable (if your looking down the shaft of your steering column it is just beyond the cosmetic plastic at your 10 'o clock, you will see it move when you move your shifter).
Okay, now remove the bolts that hold your steering column up, also remove the support rods that run from those bolts to your body. Lower your steering column down to the floor. You may need to push the cushion in a bit, but it will go.
Next go ahead and take out your dash cluster and slowly guide your disconnected shifter cable. Do break it, it is a dealer only part.
You should have something that looks like this:
Next loosen the nuts inferior to the front face of your dash. There is one on either side:
Take out the screws along the top of your dash by the windshield, and before you get happy and start yanking on the dash there are two more bolts in front of the 4wd shifter that need to be removed:
Okay, look back at this pic closely. There is a ground wire on the passenger side just below that 13mm bolt. Remove that ground wire. If you have the Infinity sound system unplug the wires. I have it, but am not running the wires.
Okay here is where you really need a second person. With one person on either side lift up and out on the dash. You need to clear the bracket in front of your 4wd shifter. Once you get about 12" out you will need to unplug the blower motor wire connector (pic below) and a huge asz plug that goes into your firewall (no pic, too busy trying to get it out, PITA):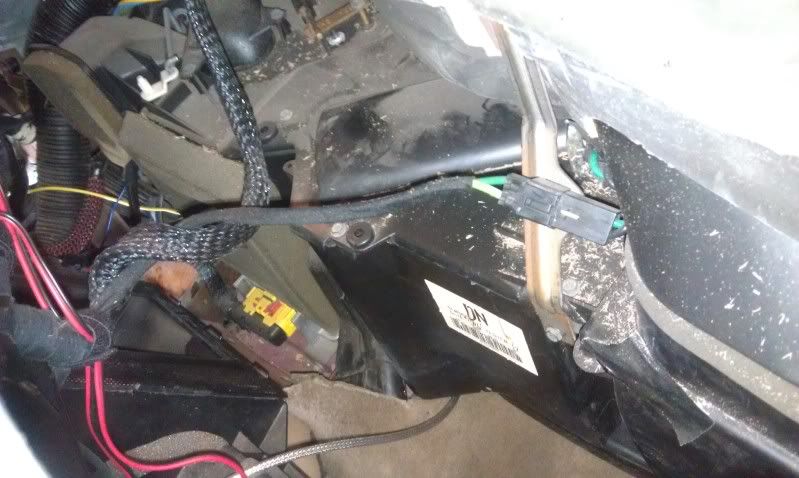 Keep pulling the passenger side out and walk the driver out as far as it will allow. After 45 min here is where it stands. PLENTY of room to get a heater box out.
Pull the already disconnected heater control cable and hoses out of the dash and lay them on the box. Unhook the hose from the box and set it aside. Under your hood along your firewall you will EASILY find the nuts that hold the heater box in, but the one that is tough to find is right next to the transmission dipstick tube just behind the union of the head and valve cover. they are all 7/16". You will need a wrench for that last one as the Valve cover is too close to get a deep well in there.
After an hour here is where I had it:
Box has a lot of screws. More on top and about 4 on the bottom side. You do not need to take apart the rod assy with the nut on the top. However you need to take that retaining ring off next to it. Also there is a black vacuum line on the driver side bottom held on my a screw. Take that off to get the top off properly.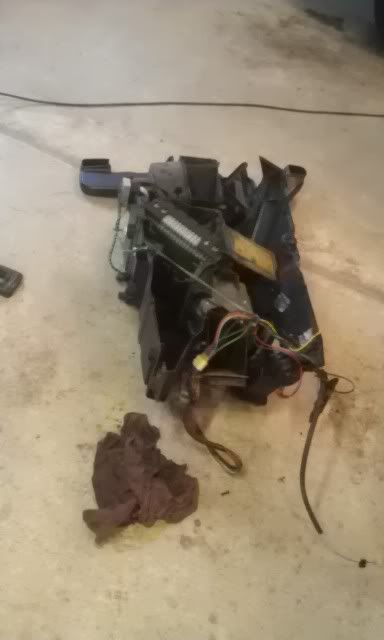 Bad core! Bad! Go to hell!
Clean this crap out:
So clean:
New parts in:
Keep in mind the OEM replacement cores are thicker and not as long, so you need to snap off one of the tabs to get it to slide all the way in and down.