·
C'mon Dodge - NEW DAKOTA
2003 Dakota Club Cab Sport 4.7L
I was googling around looking for a replacement license plate lamp after a little run-in with my PWC trailer.... different story.... and I found these: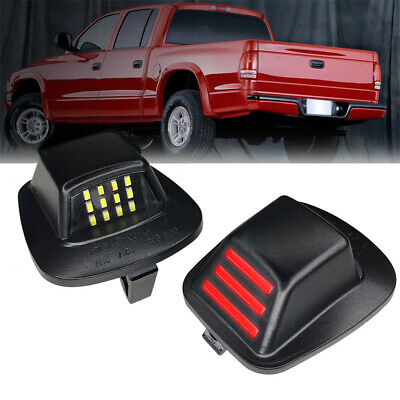 1997-2011 Dodge Dakota Pickup. 15 MIinutes Installation: Non-polarity plugs, simply plug & play, direct fit into original housing without modifications. 48" 6 Modes 372LED Truck Tailgate Light Bar Strip 3Row Brake Reverse Signal Tail.
I offered 11.75 and got a pair. They work great and look great on the truck. They are polarity protected so you really can't hook them up wrong.
They are super bright, very white, and have very neat red accent LED strips on the back side. I'm of the opinion that any light that improves your visibility to other drivers is a good thing. Especially since my aftermarket tail lights aren't as bright as the OEM ones were.
I did some modifications: cut off the connectors which were intended to plug into the bulb sockets and replaced them with metri-pak 150 connectors, same for the truck license lamp harness.
Cut a cardboard circle to fit inside the opening and filled the opening with hot melt glue. Water-proofed the crap out of the backside of the units. The circuitry was exposed and I knew that wouldn't live long.
Also had to trim both of the mounting tabs on each lamp as they were a tad too wide for the OEM bumper opening. Just a few minutes with a utility knife. That may be because I just had my new bumper powder coated, so that may have made the opening smaller and the bumper material effectively thicker.
Anyway WAYYYYYYY cheaper than OEM parts or Dorman parts. And IMHO, better.