So you want to install a new head unit into your truck? There's a few things you need to know. These items are YEAR SPECIFIC, so make sure you pay attention and buy the correct parts.
Part 1: Harness adapters
The biggest sin you can commit while installing an aftermarket head unit is to hack off the factory connectors. It not only makes things MUCH more difficult for yourself if you ever change brands or want to put the stock deck back in the future, but if you sell the truck it pisses off future owners. There really is a special place in hell for people who do that, so you should always use a plug-in harness adapter. You simply splice the aftermarket harness to the plug-in harness, matching color to color. No need to look at a chart to figure out what ISO color goes to which vehicle color.
2001 and earlier:
The two part gray and black 7-pin connectors have been used on Chrysler vehicles from 1974 to late 2001. There is no ground wire in the connectors themselves, only power and speaker.
From 1997 to 2001, the ground wire is a separate black wire that slips onto a spade on the stock radio chassis. You will need to crimp a non-insulated male spade connector onto the black wire from your new head unit's harness and insert it into the ground wire's female spade.
Prior to 1997 they used a large uninsulated ground strap that bolted to the back of the radio chassis and the metal dash support.
You can either crimp a ring terminal onto the aftermarket head unit harness's black wire and attach it directly to the dash support, or you can squeeze a T-Tap onto the ground strap with a male spade to provide a removable connection.
PLEASE NOTE:
If your truck has an Infinity system and you are not bypassing the stock amplifier, you MUST connect the amp remote turn-on wire (usually a solid blue wire labeled POWER ANTENNA on plug-in harnesses) to the BLUE wire with WHITE STRIPE (amp remote) on your head unit. If you connect it to the head unit's solid blue wire (power antenna), you will only have sound on AM/FM, but not on CD or AUX - because head units turn the power antenna lead off when the mode is set to anything other than AM/FM.
The 2-pin connector is not on all trucks. It provides a bus signal to the stock head unit for the steering wheel controls. You can not use it for any aftermarket head unit. More on steering wheel controls later.
2001 thru 2003 (Durango) or 2004 (Dakota)
Starting about halfway through 2001, Chrysler switched from the 2x7 pin connector to a single 22-pin connector. This connector DOES have a ground in it, so you simply connect every color from the plug-in harness to the head unit's harness. If your truck is MY2001, then you have to pull the radio out to see whether you have the old or new connectors before you order your adapter.
AGAIN, if you have an Infinity system and do not plan to bypass the stock amplifier, the blue wire (power antenna) from the plug-in harness MUST be connected to the blue wire with white stripe (amp remote) from the head unit's harness.
2004 (Durango) and 2005 (Dakota) and newer:
These trucks have a CANBUS control system, and even though it is the same 22 pin connector as 2001-2003/4, traditional cheap harnesses no longer work. This is because the stock radio receives constant power, and the computer tells it when to turn on and off via the CANBUS. This allows for the "Retained Accessory Power" function that keeps the radio on after you turn off the ignition until you open the door. Other functions are also controlled through CANBUS such as illumination, dimmer, and steering wheel controls.
For this reason you need a special CAN adapter for any aftermarket head unit, and they're a little expensive compared to the standard plug-in harness adapter. They plug into your factory harness and give the appropriate connection to the stereo. The control box reads the CANBUS commands and allows the aftermarket head to function just like the stock one.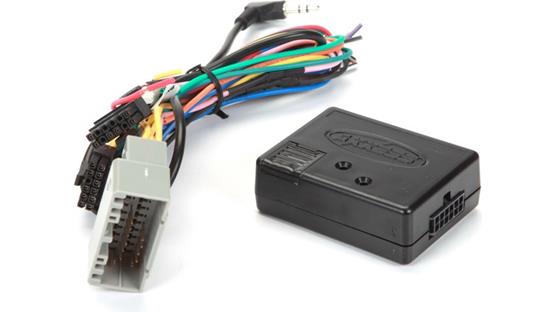 ...to be continued...