·
99 Durango 5.9 part out
The body is gone so no more requests, what I have listed is
mostly
it.
Paypal is
[email protected]
Send as a GIFT or add the 3%
. pm me with any offers, I get university pricing for ups, so I will either ship USPS flat rate, first class, parcel, or ups depending on what is cheapest
If I include the shipping it is to the lower 48 with insurance.
Please include your shipping address with paypal payment or in a pm to speed up shipping
Engine Quest heads with full MPP Valve train, 1.92 intake 1.625 exhaust .600 springs, Bronze valve guides
$1000 shipped to lower 48
ported and polished, Mopar .600 springs, seals, locks, retainers.
I had to strip down the passenger (even) side to get it bench tested, I plan on leaving them that way unless someone really wants me to reassemble. They'd work as is, but it's likely the new owner might want to go w/ 2.02s and cut the runners.
Flow is at 25ft water pressure - The reason #4 has n/a at 600 is that the keepers hit the seals at 540 and 580, that can be fixed if you are actually going to use a cam that goes to .600. The intake could do better with the runners cut, there's plenty of meat left.
To better frame it for anyone considering these, air pressure isn't a linear relation, it's an exponential one. So relatively small changes in pressure can have large effects. Not to mention the fact that it may only be 3" difference and 3 isn't a large number, that is until you consider that 3" is 12% of 25".

So for the moment we can pretend that pressure change is a linear relationship. If so then you can multiply all of the posted flow numbers by 1.12 to yield an estimate of flow at 28".
for comparison, mine adjusted * 1.12 = intake 232 - exh 201 @.500 lift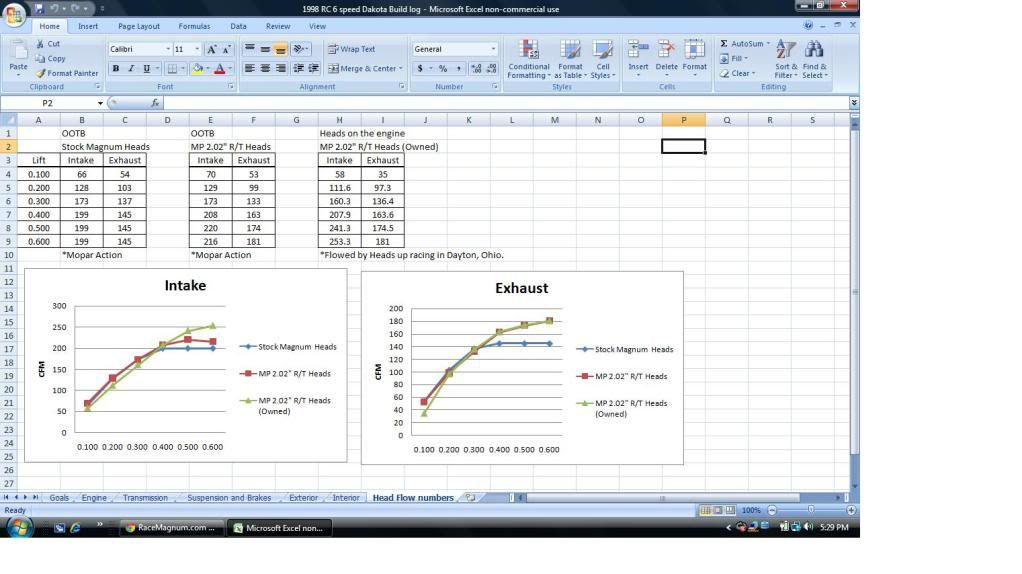 The port polish was mainly done on the bowls, and the exhaust out. Casting imperfections were removed from the intake runners but that's about it. The port polish was done by me, I spent about 100 hours in the garage with a compressor blaring and die grinder wearing out my forearms. The had a fresh 3 angle and Bronze valve guides added about 1500 miles ago. The whole setup has just over 4000 miles.
Crower 1.7 adjustable rockers with studs and guide plates
Good to 7500 rpms if your bottom end is.
$300 Shipped
PPH mid-length
$420 Shipped
, AKA Doug Thorley, AKA MPP, 2 1/2 collectors,
with downpipes,
and new in package remflex collector gaskets
Grand Cherokee Efan, controller, and appropriate 30A CB (the fuse holder in controller kit is crap) $160 value, Fourth Price drop 8/18
$75 shipped
This is the flexalite controller
http://www.summitracing.com/parts/FLX-31149/
$90 by itself
Front windows, no more fix it tickets
$70 shipped
Stant locking gas cap, free if it fits in with any of your other shipping.
LED *cab light never used. $3 with any other item being shipped.
Stock injectors 8 of them $20
SHIPPED priority
Dodge Ram Hitch Receiver cover
$5 with another item being shipped
Glove box handle
$20 shipped
360 flex plate
$50 shipped
________________________________________________________________
Custom Cam
Sold
SCT PRP with vin matched ECM
sold
SNAPON impact wrench.
sold
Trickflow Chromoly hardened pushrods 6.95 .080
SOLD
MSD Super Ignition less than 500 miles
SOLD
360 Magnum Short Block
SOLD
Mopar performance lifters 4000 miles. Set of 16
SOLD
V8 wiring harness, all connectors intact
Sold
Alternator
SOLD
F&B 52mm Throttle Body
SOLD
4 Ram center caps, as close to mint as you'll find from a used truck
SOLD
Grey ashtray, good shape
sold
grey fuse panel door
sold
Power window motors
sold
roof rack
sold
M1 2bbl
ZEUS
casting
SOLD
Front Door panels
pending
Throttle Cable
sold
Steering box
sold
99 washer tank
Sold
LMII
Sold
Stock 99 aftermarket radiator, with aftermarket oversized transmission cooler and all necessary fittings.
SOLD
R/T Billet Battery Strap
SOLD
1 fog lamp
Sold
MSD Coil adapter
SOLD
LMII and washer bottle
SOLD
billet wire separators
sold
5 bolt LA MOPAR Performance valve covers with breather, cap, and PCV, also includes 12 T bolts.
sold
Phillips Extreme Power 9007 NIB
SOLD
Ford blue top 24# injectors 50 miles $115
Sold
K&N 14" round extreme aircleaner with chrome offset base, s bolt, and billet knob.
SOLD